I've flown from Calgary to Ontario for the Thanksgiving weekend (it is Thanksgiving weekend in Canada).
Got a lot to do. Going to a wedding on Saturday, Thanksgiving dinner on Monday, and a half-marathon on the 17th!
Yes, a couple years ago I could barely run a mile. Now, I'll be running in the Toronto Waterfront Half-Marathon!
I also recently did a 10k run in Banff called the Melissa's Road Race.
See? Photographic proof! No denying that!
Though I may not be fastest runner, the run in Banff was awesome and the Waterfront Race will be great too, assuming I'm still alive afterward. 21 kilometers is a long way…
So though I'll be doing lots of holiday related stuff in the next couple weeks, I'll still be keeping up with the wonderful world of science.
For example, how bout this story from Bad Astronomy with the thoroughly awesome title of "Uranus Got Double-Tapped?"
Also the unfortunate passing of Steve Jobs was quite a blow to the world of technology. Though this idea for an eternal flame at Jobs' grave site is really quite good: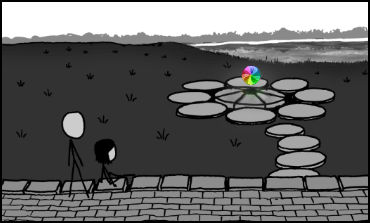 So I'll be keeping you all up to date on my comings and goings. Enjoy the Thanksgiving weekend!